TUBE BENDER REMANUFACTURING / CNC SOFTWARE / CONTROLS RETROFIT
for Machinery
CNC AND TUBE BENDER REMANUFACTURING
Customers seeking to revamp their CNC bending equipment are invited to take advantage of the CNC bender remanufacturing services available at SMT Industries Incorporated. We are capable of complete machine overhauls, including redesigning and retrofitting. Machine upgrades include electrical enhancements, Advanced Tubular software and Windows based PC control software. We handle machine repairs, control upgrades, bender re-building, and remanufacturing. We offer customers an in depth consultation to pinpoint particular process demands, ensuring the production of fully optimized equipment. We have successfully served customers across a spectrum of industries with machine conversions and redesigns including automotive, appliance, medical, aerospace, and various other manufacturing industries.
A thorough manufacturing experience is provided with an array of additional services including installation, integration, reverse engineering, and tube fabrication services. We also supply responsive technical support and on site repair. All of our products and processes conform to voluntary compliance with the QS9000 tooling and equipment supplement. Required documentation is furnished as requested. For more details about our abilities to remanufacture CNC benders, or any of our value added services, please see the table below or contact us directly.
LR-NSM Series Benders
With an abundance of flexibility, the LR-NSM Series of benders provide a fantastic solution to your difficult bending needs. They provide Left Hand and Right hand bending through a horizontal shift mechanism. This bender is available in a 25mm, 30mm, and 38mm tube size.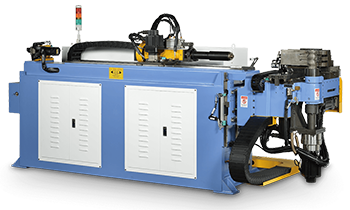 All Electric or Hybrid Series Benders
The All Electric or Hybrid benders are a great option when your application does not require both Right hand and left hand bending. All Electric or Hybrid benders are available in a variety of sizes from 16mm to 130 mm.
CNC BENDER SOFTWARE / CONTROLS RETROFIT
CNC Bender and CNC BenderLite software packages are Windows-based bender controllers. CNC Bender software is designed for large-diameter, high-volume applications. Most features available are present in every CNC Bender software package. CNC BenderLite is designed primarily for small-diameter low-cost applications, and more features are optional allowing for lower up-front license prices.
CNC Bender Videos
Robot Integration
Schneider Alliance Components
Both versions of CNC Bender connect to Schneider Alliance hardware modules (I2T Momentum control modules, and Schneider TSX Momentum I/O modules –
www.schneider-electric.com) that are placed around the bender. The connection is made using standard Ethernet connection with a single cable into an Ethernet switch, which connects to the modules on the system. 
Centralized Control – No PLC Devices Required
Advanced Tubular was one of the first OEM developers to use the concept of controlling all the modules from one Windows software package without the use of additional PLC units. This centralized approached decreases the complexity of the overall system, and allows for easy to backup of all critical files in seconds – which aids in excellent disaster recovery. For example, because of this approach, nearly any Windows computer in the office or shop can be used in an emergency to communicate with the modules on a bender in only a few minutes.
CNC Bender Technology Alliance
In 2000, the CNC Bender Technology Alliance between SMT Industries (Sidney, Ohio), and Advanced Tubular Technologies was formed in order to marry CNC Bender software to CNC bending machines for sale to the tube fabrication community. Since then, the Alliance has installed over 60 bending systems around the world. For more information about the CNC Bender Technology Alliance, please click here.
Easy User Setup
CNC Bender provides a tab-style menu system that is easy to follow and operate.
Convert XYZ Coordinates to Bender Data
Enter the XYZ coordinates of your tube layout, and CNC Bender will create a new bender program.
Measuring Centers
We supply bender communications software to many companies in the industry – so we are very familiar with what it takes to link our benders to measuring centers.
We can even link using WiFi (wireless) connections – sending your corrections through radio waves.
We can link to Romer/Cimcore, Sheffield , Eaton Leonard Laservision, Faro, Multi Systems, and other standard arms.
Speech Messages
Our controls also give speech messages during certain conditions or events on the bender. For example, if an operator steps on the safety mat, the control announces that "All Axes Disabled." This allows everyone to know, without looking at the operator station display, that the bender is in its safe mode.
Click
here to hear the "All Axes Enabled" speech message. This message is played when the bender axes are enabled and ready to move.
Click
here to hear the "Warning – Range Error Encounter" speech message. This message is played when the bender is instructed to move beyond any of its current safety limits.
Diagnostic Tools
CNC Bender has tools that allow you to check the function of actuators all over the bender – all from the operator station.