HAN JIE CNC TUBE BENDERS
MACHINERY
HAN JIE TUBE BENDERS
SMT Industries Incorporated is the exclusive company providing Sales, Service, and Training for Han Jie Tube Benders for the United States market. Feel free to contact SMT to arrange for a demonstration of these machines.
LRS Series Benders
The most exciting product in the HanJie Bender Lineup is the LRS Series Benders. It Provides Right and Left Hand Bending with a Rotary Head for the highest level of versatility possible in a CNC Tube Bender. This bender is available as a 38 or a 50 mm tube size, with an additional size under development.
LR-NSM Series Benders
With an abundance of flexibility, the LR-NSM Series of benders provide a fantastic solution to your difficult bending needs. They provide Left Hand and Right hand bending through a horizontal shift mechanism. This bender is available in a 25mm, 30mm, and 38mm tube size.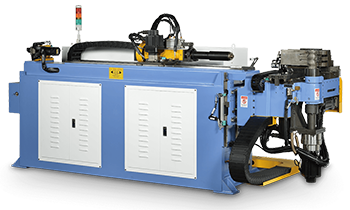 All Electric or Hybrid Series Benders
The All Electric or Hybrid benders are a great option when your application does not require both Right hand and left hand bending. All Electric or Hybrid benders are available in a variety of sizes from 16mm to 130 mm.