V-TUBE LASER
Software For Tube Fabrication Machinery
World-Class Metrology for Tube Fabrication
This is the software tool designed exclusively for tube measuring, tube-shape qualification, tube bender correction, and tube-shape reverse engineering using laser scanners.
Features
VTube-LASER connects directly to HEXAGON Absolute arms with laser scanners to scan tube shapes faster with greater repeatability.
Qualify tube shapes.
Setup and correct SMT benders in minutes. Transfer of correction data takes a few seconds.
Build SOLIDWORKS models of reverse-engineered tubes in seconds.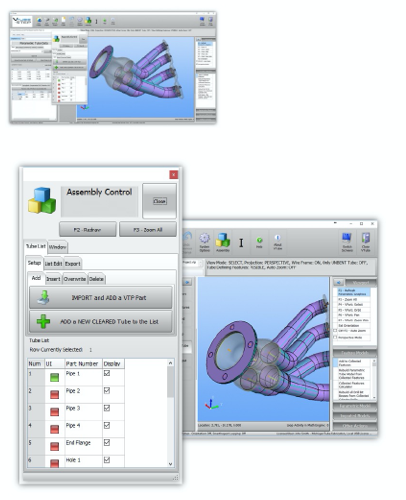 Import
The product design world is switching to "Model-Based Definition" (MBD), where solid models are used to create and control the nominal MASTER data.
VTube enables MBD by allowing you to import master tube shape data from the universal STEP or IGES files – which means you can import from any solid model package.
Import one tube or entire assemblies into on VTube-LASER project file.
Inspection
Fully qualify the part using the Inspection Results grid. Color codes give a quick indication of pass/fail for part qualification. Print customizable inspection reports to document the qualification.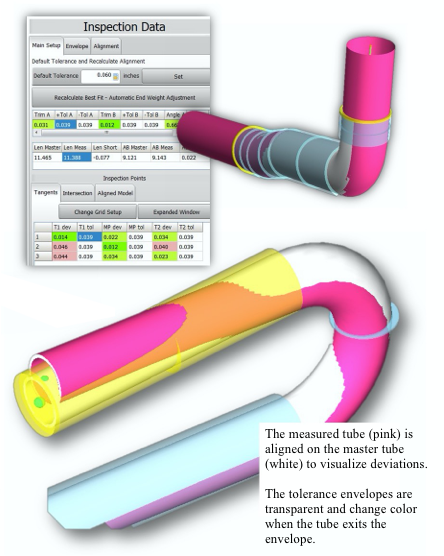 Benderlink
Connect up to 100 SMT benders using the VTube-LASER Benderlink system. Network benders on your shop floor to correct the part shape in seconds.
"VTube-LASER never ceases to amaze us. It allows us to use the same solid model through all steps of manufacturing." -Doug Warnec
Reporting
Design reports with HTML report templates using our sample reports. Add any number of custom report templates to the list for use in different situations.